You did it. Pakistan, you did it. The exhausting, emotional rollercoaster of a ride is over – for now. You just managed to scrape through. Through the nightmarish, nerve-wracking last few hours, when everything that could go wrong thankfully almost did not go wrong. Through the cries of despair, frustration and anger, you did it. You have lived to battle England in Cardiff – the same venue as Monday's agitating contest against Sri Lanka.
The night has passed. I, along with the rest of my nation, am waking up to a new day today. Yesterday seems like a beautiful dream. Even more beautiful is the reality that almost did not happen. I'm still letting it sink in, savouring these words that, at some moments during the game, I was scared I wouldn't get to say: You won! You are through to the semi-finals of the ICC Champions Trophy 2017, after a wait of eight long years. It took a heart-stopping screamer of a match to do it, but you did it. You, living up to your 'predictably unpredictable' reputation in all its glory, defeated Sri Lanka by three wickets in a nail-biter to clinch a spot in the last four – your first time reaching a semi-final of an ICC tournament since 2012.
Many have tried to warn me to stay away from you. It's a toxic relationship, they have said. The lows are intense, the defeats are heart wrenching. The frustration of almost making it but falling short is maddening. It's happened way too often in the past. Flashback to the 2007 T20 world cup final against India, when the victory was snatched away from your jaws. The doubts still linger. You fall, you rise, you fall again. You are a complicated chaos. You give me hope, you take it away. You make me almost afraid to raise my expectations, to hope too much, in case you bring me crashing down again.
And that's exactly what you did when you lost so heavily to India on June 4. But when you defeated South Africa last Wednesday, I found myself daring to dream again. The flicker of hope never dies. Because you've given me enough reason to believe in you. You have incredible talent, massive potential. You make mistakes which infuriate us. But how could I possibly feel mad at you when Hasan Ali bowled so beautifully to the power-hitting South African batsmen? Or when Imad Wasim sent AB de Villiers to the pavilion for the first golden duck of the Protean skipper's career? It's impossible to brood over the horror of your mistakes, after you rise from the ashes and outdo some of the best and the biggest.
Why, then, should I not expect more from you? You've given me every reason to hope for more. A win against South Africa wasn't enough; I wanted you to knock out Sri Lanka and seal your place in the semi-finals. I wasn't ready to say goodbye to you just yet.
Cometh the day: June 12. You took to the field against Sri Lanka, who had upset title-defenders India just some days ago, under clear blue skies of Cardiff. Mohammad Amir and Junaid Khan swung the new ball, and you looked to be dominating Sri Lanka, just like you had dominated South Africa. The flicker of hope returned, just when Junaid struck to dismiss one of the openers. The flame of hope began to burn brighter when Hasan Ali did a déjà vu of his Wayne Parnell delivery and sent Mendis' stumps flying.
What's not to love about your pace attack? The young, fierce and driven trio of Amir, Junaid and Hasan is enough to send shivers down the spine of anyone at the crease. Your bowlers once again did their job for you. Yeah okay, the death overs weren't pretty, but they seldom are these days. 237 should have been a walk in the park for you. But wait, how could I expect this to be easy? How could I have forgotten all those moments in the past when your chasing failed because of reckless, irresponsible batting? Once again, I was blinded by my love and pride for you and didn't consider the consequences.
Azhar Ali and the young Fakhar Zaman walked out to bat. Okay, 237. Not a big deal. Fakhar started hitting the ball all over the ground, and I almost laughed with relief. This was too good to be true. 50 up for Fakhar, and we hadn't even lost a single wicket. Just when I began to celebrate inside my head, Fakhar got out, but kudos to him, you had half of the work done for you.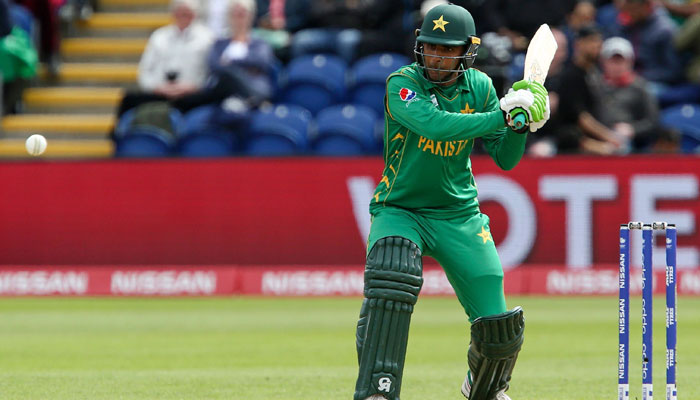 And just like that, the collapse began. Babar Azam's unlucky run with the bat continued. Hafeez didn't deliver (did we even expect him to?), Azhar fell. Shoaib Malik, playing his 250th ODI, played the most forgettable inning of his life. Imad Wasim went as quickly as he came. The horror was unfolding too quickly, and my hopes, everyone's hopes back home, were shattering in sync. You were making my blood boil and heartbeat shoot. Was it even worth all this torture?
But if there's one thing I've learned from my love of cricket, it's this: you can never know till the end. When a team isn't ready to surrender, you shouldn't, either. Sarfraz was putting up a brilliant fight, and Amir was supporting him with all his might. There were still 70 runs to go. But who am I to give up, when my team and my captain hadn't given up?
Ball by ball, runs began to trickle in. Hopes began to return. Dropped catches, sighs of relief, missed run-outs, heart-stopping escapes. My pride and confidence in you was restored. When Sarfraz hit that boundary to catapult Pakistan to the semi-finals, I was reminded of all the reasons I love you, and they far, far outweighed all the frustration and shocks you've given me along the way.
It's every bit worth it. The emotional rollercoaster of a ride which comes with supporting you and cheering you on. Best of luck, Team Pakistan! Go get that trophy.
The writer is a producer at Geo.tv and tweets @Mariaa_54