BIRMINGHAM: While the Pakistan cricket team is getting ready for the encounter against the arch rivals India on Sunday at Edgbaston, the fan club here in UK is also geared up for the big match.

Pakistani fans, based in UK, have once against prepared a double-decker bus to celebrate Pakistan's campaign in ICC Champions Trophy 2017 in the UK.
The green bus, decorated with small and medium size Pakistan flags is being prepared in a local workshop of Birmingham, will take a round of Birmingham on Sunday ahead of Pakistan vs India game to pick the fans and go to stadium together.

Amjad and Ajaz, two avid fans of Pakistan cricket, are working daily to decorate this bus, they're hoping that boys in green will not let them down on Sunday.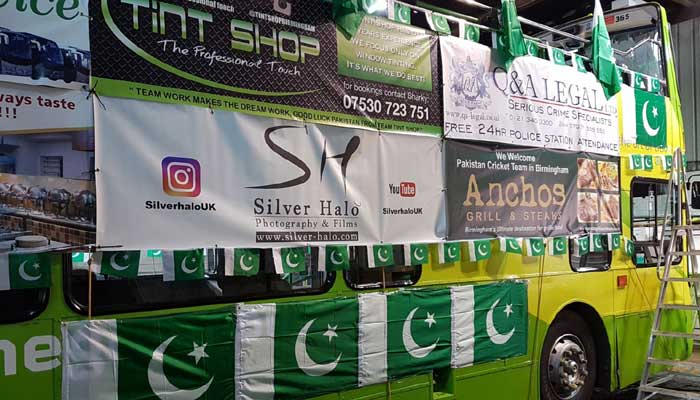 Amjad Hussain, who is traditionally known as Mr Pakistan among the cricketing fans, gets attention wearing white sherwani and hat stitched with Pakistan flags.
Hussain says that they try to get time out of their professional duties to decorate this bus for their passion of Pakistan Cricket.
"We have this tradition of preparing bus to support Pakistan cricket team during their tours to UK, and we are keeping this tradition this time as well," said Amjad Hussain.
"Indian fans are also trying to copy us, but our cheer for Pakistan team will be much louder," he said.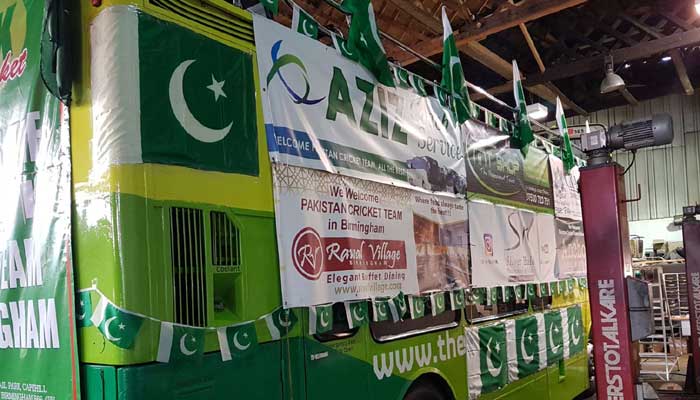 Another fan, Ajaz Beg, who is known as Sheikh of Pakistan says that he is praying for Pakistan's success in not only India's game but also in the whole tournament.
"In this holy month of Ramadan, I hope and pray that Pakistan team achieve success and I request every fan of Pakistan team to pray for team's success," said an emotional Ajaz while talking to this correspondent in his traditional attire.
"We will take this to all over Birmingham ahead of the game and will boost our team's morale during the match," he said.
The green bus by Pakistani feature will also feature during Pakistan's match against South Africa at the same venue.
Sunday's Pakistan vs India match is expected to be houseful as all the tickets of the match are completely sold out.